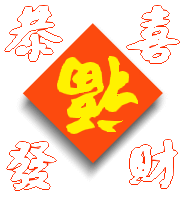 Sha Chi, or "killing Chi" as it is sometimes known, is a different from Sheng Chi and Si Chi. It is harmful energy, the Chi that is possessed when people are angry or when a place has a threatening or peculiar feel to it. Sha Chi originates from negative surroundings both above and below ground and, depending upon its origin, can cause various detrimental effects. Sha Chi from below the ground causes sickness and saps energy and so a person may feel tired and apprehensive for no obvious reason.
Sha Chi emanating from above ground causes nervous complaints and illnesses. It may result in troubles in people's personal life such as a marriage breakdown and financial concerns, whether personal or relating to business. Sha Chi can affect houses in a number of ways, inside or outside, we don't mention all the ways at this site, but here are some examples.
It is well known that Sha Chi will affect a house detrimentally if the house is sited at a T-junction in the road (Figure 1) or if a road or a river runs straightly from one of the doors or windows (Figure 2). Similarly, a house surrounded by other structures (bridges, roads) will receive harmful energy as well, since the structures box it in.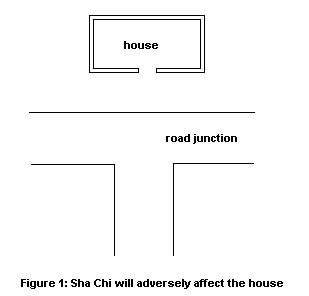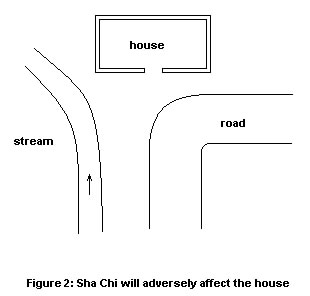 Also, there are some other situations will create Sha Chi:
Pointed objects aligned with the door or a window
Being opposite a ruined building
A noisy neighborhood or a noisy building such as a fire station or a bar.
Overhead cables or wires obstructing the view
Proximity to a graveyard
Looking for a solution?
There are three ways to get the answer:
1. Check out our tips for Feng Shui cures.
2. Post your comments on Feng Shui Forum.
3. Send me a email , I am not full on this Feng Shui site, but will try to response asap.
4. Contact a Senior Master by click here
---
Feng Shui - Elements - Living Guide - Glossary - Web Shui - Site Map

Site provided by Tellwut Online Surveys