Yin and Yang
Yin and Yang are the be all and end all: the cause of the life and death. The Chinese equate the earth, or creation with Yin and the sky or heaven with Yang. Yin is represented by a line and two dashes while Yang is a continue line.


Yang


Yin
Yin and Yang are inextricably linked because while Yin is restful and yang is active, activity invariably ends with rest and likewise rest leads to further activity. The activity of yang ends with the inactivity of yin. Then that produce a well known symbol "Tai Chi".
Although Yin and yang are effectively opposite, together they produce a balance and within each there is some part of the other, represented in the symbol by the dot of contrasting color - white in the black and black in the white.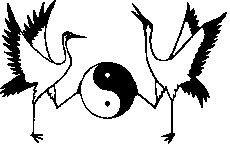 Five Elements and its Cycle
Wisdom in China believe a productive cycle in the world, it produces everything and the relationship of each other. Five elements establish this productive cycle: WOOD, FIRE, EARTH, METAL and WATER. They are the foundation for Feng Shui, making them balance is a most important point in creating the perfect environment and overall harmony.
The cycles are presented in simple terms below.

| | |
| --- | --- |
| Generation cycle | Destruction cycle |
| earth supports metal | earth absorbs water |
| metal contains water | water extinguishes fire |
| water supplies wood | fire melts metal |
| wood feeds fire | metal cuts wood |
| fire helps earth | wood hinders earth |
Keep them around you and better use it would :
Generation cycle:
Wood -> Fire -> Earth -> Metal -> Water
Destruction cycle:
Wood ->> Earth ->> Water ->> Fire ->> Metal ->> Wood
---
Feng Shui - Elements - Living Guide - Glossary - Web Shui - Site Map

Site provided by Tellwut Online Surveys